The Ultimate Packing List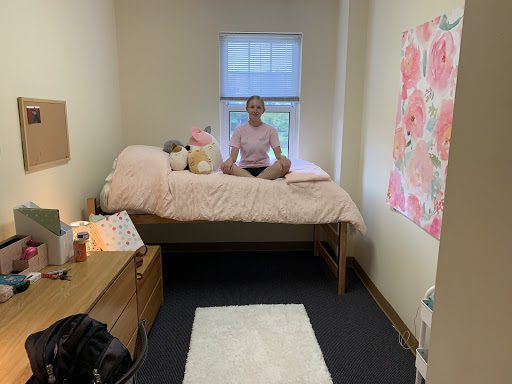 Figuring out what to bring to college can be a hassle.
It feels like every store comes out with their own "back to college" packing list and it can be hard to tell if something is essential or will just take up space.
That's why I've put together a list of things that I personally consider essential for any dorm.
Bedroom Needs
Bedding (Tip: Pack two sets of sheets.)
Foam Mattress Pad (Tip: The thicker the better.)
Curtains (Tip: Blackout curtains are best!)
White Noise Machine
Bedside Lamp
Alarm Clock
Pictures (Tip: Command strips work great for hanging wall frames.)
Corkboard or Whiteboard
Wall Decor (Tip: Tapestry is a simple way to personalize your space.)
Additional Lights
Storage Bins
Cart-on-Wheels
Full-Length Mirror
Closet/Laundry
Clothes (Tip: Bring what you need for the season or until a break.)
Swimsuit
Business-Casual Clothes
Light & Heavy Jackets
Shoes
Clothing Hangers
Iron & Mini Ironing Board
Laundry Detergent, Dryer Sheets, Stain Remover
Laundry Basket/Bag
Desk Supplies
Extension Cord (Tip: No multi-plug extension cords.)
Desk Lamp
Printer with Ink and Paper
Desk Organizer
Drawer Organizers
Stapler
Scissors
Tape
Pushpins
Laptop
Notebooks
Pens, Pencils, Highlighters
Backpack
Calculator (Tip: Required calculators may differ based on courses and professors.)
Whiteout
Sticky Notes & Index Cards
Folders/Binders (Tip: Have one for each class.)
Planner
Bathroom & Toiletries
Towels
Scale
Shower Curtain
Bath Mats
Shower Caddy
Shower Shoes (Tip: Use cheap Flip Flops.)
Toilet Paper
Hairbrush/Comb
Toothbrush, Toothpaste, Mouthwash, Dental Floss
Regular Products (ie. Makeup, Hair, Deodorant, etc.)
Baby Wipes
Compact Mirror
Cotton Swabs and Cotton Balls
Household & Kitchen Items
Small Trash Can
Trash Bags
Clorox Wipes
Windex
Shower Cleaner
Toilet Wand
Paper Towels
Air Freshener
Hand Soap
Vacuum Cleaner
Swiffer Sweeper with Refills
Reusable Water Bottle
Individually Packaged Drinks & Snacks
Coffee Mugs
Paper Plates
Plastic Silverware
Plastic Cups
Shared Items with Roommates
Area Rug
Mini Fridge (Tip: to rent a compact refrigerator/freezer, visit the MicroFridge Rental website.)
Microwave
Coffee Maker
Wall Decor for Common Area
Miscellaneous
Lint Roller
Headphones
Reusable Shopping Bags
Additional Storage Bins
Umbrella
Hand Sanitizer
Gym Bag
First Aid Kit
Mini Toolkit
Pro Tips
If you are unsure about an appliance or item to bring on campus, visit Housing and Residence Life's list of packing and prohibited items.
Depending on the type of housing you're assigned, some of the items above may be provided.
Target has a dorm registry that provides you with discounts on many dorm supplies.
Keep the receipts and packaging of the items you bought, that way you can get a refund if you need to return something.
Consult with your roommates on common or shared items.
Bring a dolly on move-in day, your back will thank you.
Be prepared to unload everything out of your car within 15 minutes. This helps keep the traffic to a minimum when the residence halls open.
Note: Unloading your car doesn't mean carrying everything to your dorm room, instead, you'll unload your belongings onto the sidewalk near your building and then begin making trips inside.
Buying generic brands of items will save you a lot of money.
Take pictures while moving in, they are great memories to look back on.
Take advantage of the free t-shirts given out on move-in day. You can never have too many UNC Charlotte t-shirts, especially with #WearGreenWednesday.
Thank your parents and anyone else who helped you move in. It is hard work!