7 Hidden Wonders of UNC Charlotte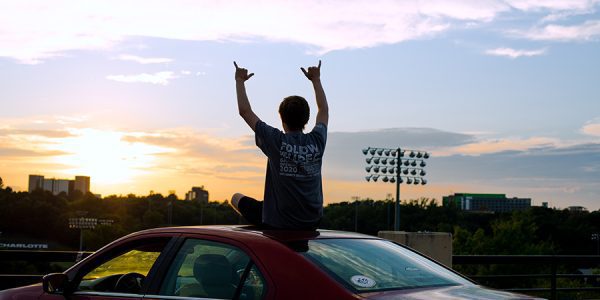 Whether you're visiting UNC Charlotte as a prospective student or moving in as a new Niner, our campus is going to look different than you imagined this year. Luckily, you can still enjoy the magic of our modern campus by visiting these 7 hidden gems at UNC Charlotte.
These locations provide our students with quiet places to study, unique photo-ops, and new places to explore. As you visit these secret spots, you can get a taste of everything while still maintaining safe social distance.
1 – The Community Garden
Located between Robinson Hall and the Johnson Band Center, the Community Garden is a perfect spot to curl up in a hammock with your favorite playlist, book, or craft.
Music from the surrounding buildings might drift in, along with the aromatherapy from the herbs and vegetables growing in the gardens year-round. UNC Charlotte's Community Garden Club maintains the seasonal crops and donates each harvest to the Jamil Niner Student Pantry and other local organizations.
Here, you can soak up the sun and sustainability without even leaving our main campus.
---
2 – The Botanical Gardens' Amphitheater
Hidden between the Cafeteria Activities Building (CAB) and the edge of the Botanical Gardens lies a true diamond in the rough, a forgotten outdoor amphitheater.
While its former function is relatively unknown across campus, the structure is secluded and aesthetically interesting. In 2019, Niner Times writer David Clancy brainstormed ideas for potential functions of this space, including outdoor movies, outdoor lectures, and theatre productions.
For now, though, the earthy, terraced seating is all yours.
---
3 – The Toby Creek Greenway
I was introduced to the greenway on my first campus tour as a "workout with rewards." The portion of Toby Creek Greenway that stretches through UNC Charlotte is about 2 miles long, and you can reach Cookout on one end, and Dunkin Donuts on the other.
Along the path, you'll find an outdoor calisthenics area (C.O.R.E.) that was created by students and the Light Rail Bridge, plus extra trails to the athletic fields, an off-campus soccer field, and UNC Charlotte's Ropes Course. Nature-lovers, athletes, and artists can all get their fix on the greenway.
---
4 – The High Ropes Course
Tucked away just off the greenway path, you can find UNC Charlotte's high and low ropes courses, maintained by the Venture Outdoor Leadership program.
Student organizations or university departments can sign up for team building exercises, facilitated by student leaders. The courses feature multiple rope elements with varying degrees of difficulty, so there's definitely something for everyone!
You can get involved with Venture by signing up for outdoor expeditions, renting equipment, or declaring a minor in Outdoor Adventure Leadership!
---
5 – The EPIC Trail
If you ever find yourself near the engineering buildings, you'll see a gravel trailhead between the softball field and EPIC.
Grab a friend and pack a picnic, because at the end you'll find a scenic pond and an open field, perfect for an afternoon outdoors.
---
6 – West Deck Sunset
If you're looking to take your Niner Pride to the next level, take a few golden-hour photos on the top floor of West Deck on Wear Green Wednesday.
For some socially-distanced interaction, you can grab SoVi To-Go with your friends, drive up to West Deck, pop the trunk, and eat dinner while watching the sunset over the athletic fields.
---
7 – Student Union Views
As a 49er, you're going to become really familiar with the Student Union.
While the campus bookstore, movie theater, and newly renovated Starbucks are sure to entice you, nothing beats the views of campus from the 2nd and 3rd floors.
From the meeting rooms and 3rd floor balcony, you can see about half of our main campus with a perspective you can only get at the Student Union.
---
Even graduating seniors will tell you they're still finding new spots on campus. I'm definitely going to spend my senior year discovering all the must-sees with my camera and posting my favorite spots on Instagram! Now, you have a head start! This list only scratches the surface of all the wonders UNC Charlotte offers when you join Niner Nation.