9 Reasons for Niner Pride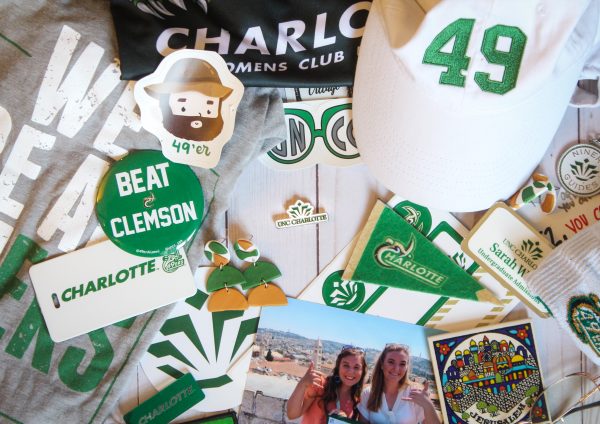 In honor of UNC Charlotte's Spirit Week, we wanted to share the meaning behind why we're proud to be Niners. Here at UNC Charlotte, we like to refer to our school spirit as Niner Pride. To echo that pride, we asked some of our current students what makes them proud to be a part of Niner Nation. Here are 9 Reasons for Niner Pride as collaborated and communicated by current 49ers.
---
1 – Niner Nation Means Community
Niner Nation not only refers to our University's campus, but also to our greater community. A community of past alumni, current students, and future 49ers along with families, administrators, faculty, and staff. Our community is one that is innovative, passionate, resilient, and unique.
"My favorite part of being a Niner is being a part of such an awesome community. I have never experienced such a level of passion and pride for being a member of an institution." Collin, '23
---
2 – Our Diversity Makes Us Stronger
Our community represents people of a wide breadth of gender identities, sexualities, races and ethnicities, faith traditions, nationalities, and other backgrounds. It is this diversity that permits and promotes us to learn from one another which is vital to living in community and understanding our world.
"What I love most about being a Niner is how diverse our community is. There are so many Niners with different viewpoints and life experiences for you to learn from inside and outside of the classroom." Jacob, '21
---
3 – Academics in America and Abroad
With 7 colleges, 171 majors in 77 programs leading to Bachelor's Degrees it isn't hard to take pride in our academic programs. Our students in every academic field have opportunities to apply their studies through real-world, immersive experiences in and beyond the classroom, including studying abroad. Our Office of Education Abroad is wonderful at assisting students to plan their international experiences.
"I was always aware of UNC Charlotte's reputation of having strong academic programs such as Engineering, Nursing, and Business, and I was so pleased to learn that the list doesn't end there! UNC Charlotte also offers tons of really interesting academic programs abroad that supplement what you're learning on campus. I got to study abroad in Jerusalem, Israel on an archaeological dig with students and faculty from our History Department." Sarah, '21
---
4 – Faculty and Staff Want You to Succeed
As much as our faculty and staff want our students to take pride in their academic work and professional progress, they also personally take pride in their students' success. From advisors who partner with our students to determine and strategize how to meet their future goals, to our professors who spend hours upon hours providing critical feedback to student assignments, meeting with students during office hours, and preparing meaningful lectures and projects.
"This place has provided me with so many different ways to make the world my own and start building a solid foundation for my future. The faculty, staff, and even fellow students offer and continue to show me support no matter what venture I want to take next!" Gabby, '22
---
5 – Campus Organizations for You and for Others
UNC Charlotte has more than 400 student organizations and there are many benefits to joining an organization. For new students, it is an opportunity to make new friends. For current students, it is a chance to learn something new or challenge themselves. For everyone, it's a time to share personal talents, develop skills, collaborate with others for a shared reason or common goal.
"I am proudest to be a part of Niner Nation when I am volunteering with the organizations that I have joined since my freshman year. Volunteering is an opportunity to take a break from studying and remind myself of others' needs, and doing that side-by-side with my classmates and peers is a lot of fun." Crista, '21
---
6 – Campus Traditions That Unite Us
Although our traditions have taken on a new look this year, they are an easy way to unite all members of Niner Nation. From the beginning of your time here at UNC Charlotte when you learn our alma mater at New Student Convocation to your final moments of your journey where you recite it at commencement— it is traditions like these which unify us!
"I am proud to be a part of campus traditions like singing the fight song at the top of my lungs, reciting our alma mater, or even just throwing a simple pickaxe in the air with my peers. It is these traditions that remind me Niner Nation is one, big family! We come from different backgrounds, but we are united in green." Kiya, '22
---
7 – A Beautiful Campus to Call Home
If you follow us on social media or have toured our campus, you may not have a full sense of pride for the campus just yet, but you know what we are referring to. Our large, modern campus makes for a beautiful, welcoming home for our students during their time here. Whether you are studying from the 10th floor of the library or simply exploring the greenway, you can't help but enjoy the views!
"From the first time I stepped on campus for a tour, I was impressed by the beauty of UNC Charlotte's campus… During my first year as a student, I was able to discover so many other cool features around campus including the botanical gardens and Hechenbleikner Lake." Carlie, '23
---
8 – Our Connection to the City of Charlotte
Located just 9 miles north of uptown Charlotte, UNC Charlotte offers easy access to one of the country's fastest-growing cities. Our students can easily take advantage of this connection to the greater city of Charlotte for internships and professional experiences or even just a weekend exploring the city's art district on scooters.
"Being a light rail ride away from the greater city of Charlotte opens up immense opportunities for UNC Charlotte students. Every neighborhood has its own culture to offer as the light rail travels through many parts of Charlotte, including Noda and South End. As a student, I will be forever grateful for the connection we have to the city and greater community of Charlotte." Maria, '22
---
9 – Opportunities to Enhance Your Resume and Your Confidence
One word that resonated with many of the students we spoke to was "opportunity." Our students echoed one another that they were proud of the various opportunities UNC Charlotte had to offer, both inside and outside of the classroom setting.
"There has never been a day where I am not grateful to go to a university where I have so many opportunities to grow. On-campus, utilizing the Career Center and Niblock Student Center has allowed me to narrow my business focus and network with employers. Off-campus, I can take the light rail to North Carolina's largest city, Charlotte, and be immersed in all things professional and social. As a Niner, you are surrounded by opportunities that will shape you and allow you to be the best version of yourself." Ben, '22