Accelerated Master's Programs
In as few as 12 months of additional study, you can earn your master's degree.
Accelerate Your Education
If you are an incoming freshman, you have the option to apply for admission to an Accelerated Master's Degree Program and begin work toward your graduate degree before you complete your bachelor's degree.
---
What is an Accelerated Master's Degree program?
The Accelerated Master's Degree program allows exceptional students at UNC Charlotte the opportunity to complete the requirements for both their bachelor's and master's degrees at an accelerated pace – usually with just one additional year.
---
What programs are offered?
The following programs are currently offered at UNC Charlotte:

Master's in History
Master's in Latin American Studies
Master's in Economics
Master's in Mathematical Finance
Master's in Data Science and Business Analytics
Master's in Applied Physics
---
Requirements
Minimum high school GPA of 3.75 (on a 4.0 scale)
Minimum score of 1220 on the SAT
Choose a major that offers the Accelerated Master's Degree Program (see list above)
---
How To Apply
If you are admitted as an undergraduate Freshman in fall, submit an online application for graduate admission in the spring of your freshman year.
Submit a Statement of Purpose for pursuing the Accelerated Master's Degree (submit with the graduate school's online application)
Submit three recommendations (submitted with the graduate school's online application) provided by a high school teacher and from a UNC Charlotte faculty member who taught the applicant in the fall semester of the freshman year
Enrollment will be based on program capacity, and certain programs may have more stringent admission policies or application deadlines
---
How does the program work?
Undergraduate students in the program may "double count" up to 12 graduate-level credits (typically four courses) towards their undergraduate major and can typically obtain a master's degree within 12 months of completing the bachelor's degree requirements.
Depending on the length of the graduate program, some programs may take longer to complete.
Students are not required to take the GRE for admission into the Graduate School to complete the program.
Admission is contingent on meeting eligibility requirements at the time of entering the graduate program
---
Benefits
Begin graduate coursework in the senior year
Mentoring by graduate faculty throughout the program
Complete the bachelor's and master's degrees in less time than pursuing them singularly
Substitute course hours (no more than 12 depending on the program) earned at the graduate level for required undergraduate hours
Engage in research opportunities early in the undergraduate program
Standardized test requirement for graduate admisison waived
Participation in one commencement ceremony for awarding of the bachelor's and master's degrees
---
Continuing Enrollment Requirements
Maintain a strong academic record at the undergraduate and graduate levels, respectively (cumulative GPA >= 3.0)
Exhibit stellar performance in all field experiences, research, and coursework
Meet all deadlines for licensure (if relevant) and graduation
Students who do not maintain the minimum GPA will be placed on probation the first semester and dismissed from the graduate program at the end of the second semester
---
Financial Aid and Tuition
Students may be considered for undergraduate financial aid and funding prior to completion of 121 semester hours of undergraduate credit; afterwards, students may be considered for graduate financial assistance
Students will be charged graduate tuition and fees after completion of all baccalaureate courses, generally beginning in the fifth year of study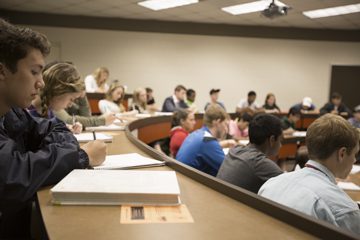 The Accelerated Master's Degree Program allows students to obtain their master's degree in as little as one more year.