A Recap of Black History Month at UNC Charlotte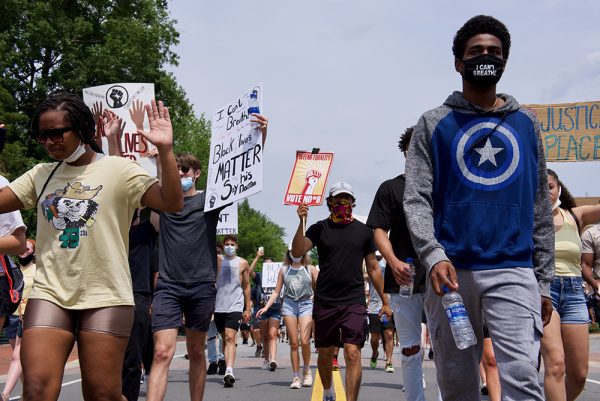 Throughout February, UNC Charlotte has recognized and celebrated the contributions of African Americans in many aspects of our collective history as a nation and a University. As the Office of Undergraduate Admissions, we want to recap how Niner Nation is honoring the contributions and achievements of our Black alumni, students, faculty and staff. Additionally, we would like to share several students' experiences and their advice to Future 49ers who are hoping to join Niner Nation.
To kick off the month, UNC Charlotte began a series of featured stories that honor the accomplishments of Black students, faculty and staff. In the first of the series on Inside UNC Charlotte, Professor Julia Jordan-Zachery explains the history of Africana Studies. Jordan-Zachery addresses not only the history of the department and its origins but also its role and importance in the 21st century stating, "The interdisciplinarity of Africana Studies affords us with varied vantage points, theories, methods, etc., within which to not only understand systemic racism, but more importantly with an opportunity to chart a different future — this is what we mean when we say that Africana Studies is socially functional."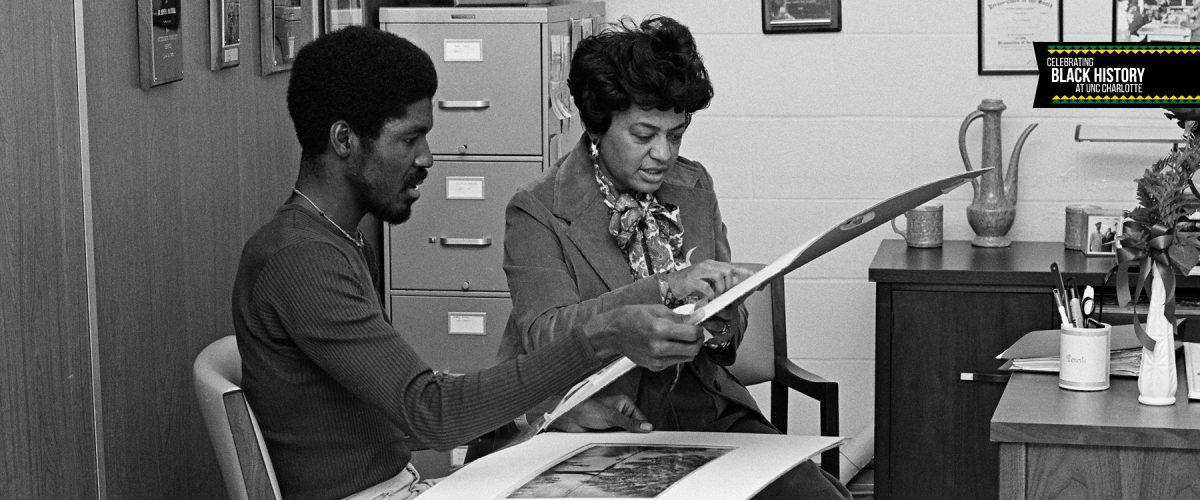 Another story celebrating Black History at UNC Charlotte focused on a brief history of our Africana Studies Department and its selected milestones in the evolution of the Black Studies Program. Accounting for the scholarship, research, and activism of Black students and faculty that led to the creation of the Africana Studies Department and has continued to greatly influence our institution. After a half-century since the establishment of the Black Studies Program, UNC Charlotte students continue to use their voices to advocate for social justice and equity.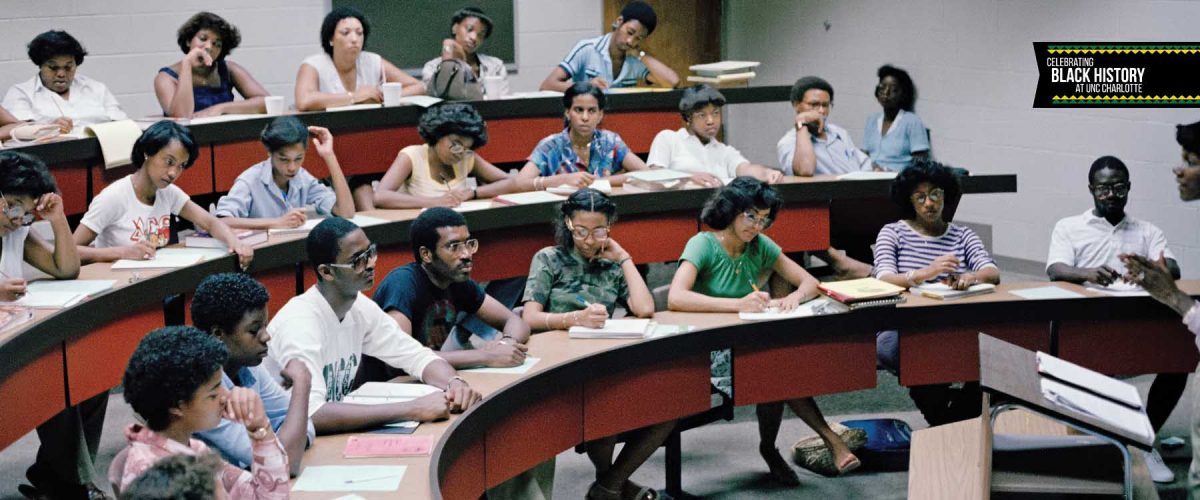 Our Alumni Association recognized many 49er Alumni for their contributions to Niner Nation and the greater community of Charlotte and beyond. Including DeAndrea Salvador '13 who was sworn in, just last month, as the youngest Black woman to serve in the North Carolina Senate. Adrienne Threatt '06 who co-founded Hope Vibes Inc., a nonprofit organization that serves people experiencing homelessness in the Charlotte region. Also, sharing reflections from the First President of the Black Student Union at UNC Charlotte – Paul Hemphill '72.
As many in-person celebrations, such as the Annual Black History Month Dinner, were reimagined in order to follow safety guidelines during COVID-19, our 49ers Athletics found a way to celebrate on and off the playing fields. This month our student-athletes, coaches, and staff are proud to wear shirts created to celebrate. Designed by a local artist and former UNC Charlotte Football Student-Athlete, Alex "Dunc" Duncan, the shirt features many significant faces and symbols to represent Black History.
Our Campus Activities Board has intentionally planned and held various virtual events to connect students throughout the month. From CABpardy, our own Jeopardy-style game, featuring questions regarding Black History to Black and Abroad Alumni Panels which give current students an opportunity to learn about the unique experiences Black UNC Charlotte students have had while overseas. Events combined opportunities to learn more about Black History and fellowship with Black and non-Black students.
As our students have participated and celebrated Black History Month in various ways, we recognize that Black History is American History and as a result, we asked several students to share with us what this month means to them.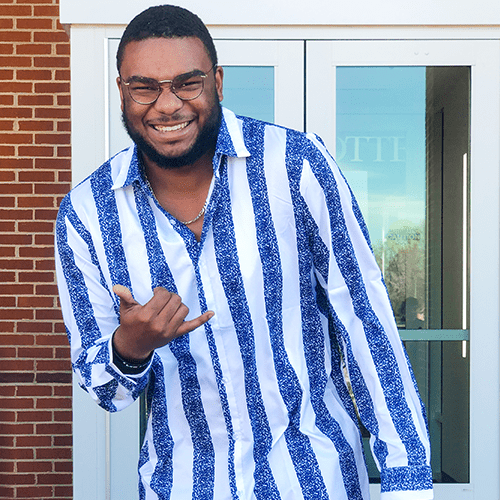 "Black History Month to me is empowering in so many ways. I love that Black leaders who have made impacts in so many people's lives are recognized. Black History is American history and should not only be studied during February, but enforced in students' curriculum throughout the entire school year. Black History has built the American foundation and contributed to the diverse nation we live in today."
– Tassan Dover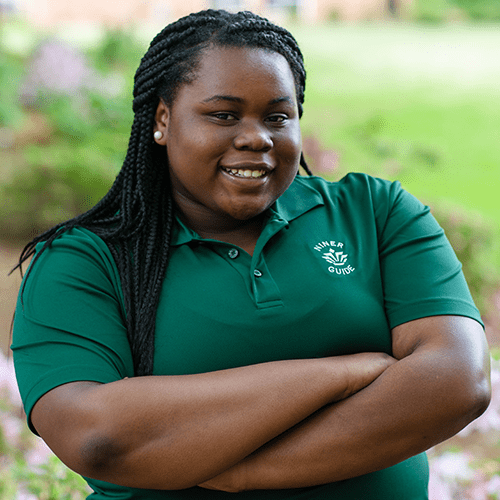 "I view Black History Month as a way to purposefully highlight the multi-century long fight for advancement, empowerment, and freedom of Black people in America. Black history is American history. I view Black History Month as an opportunity for American citizens as a whole to take the time to learn, unravel and acknowledge the truth of what life began (and still is) like for people of color from as early as the 17th century in America."
– Raven Parker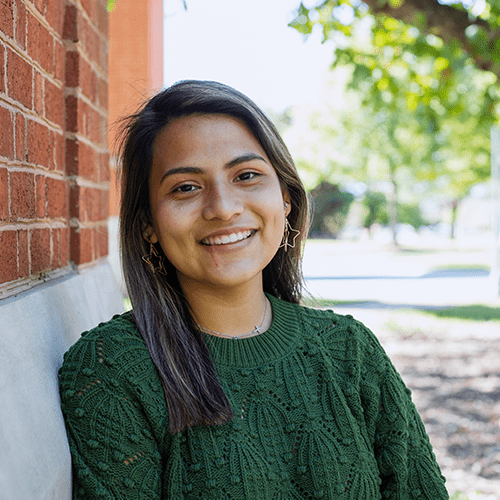 "Black History Month is important because it allows us to learn about and reflect on the contributions many African Americans have made to better our society through science, music, education, and social justice."
– Cameron Rosas Wuotto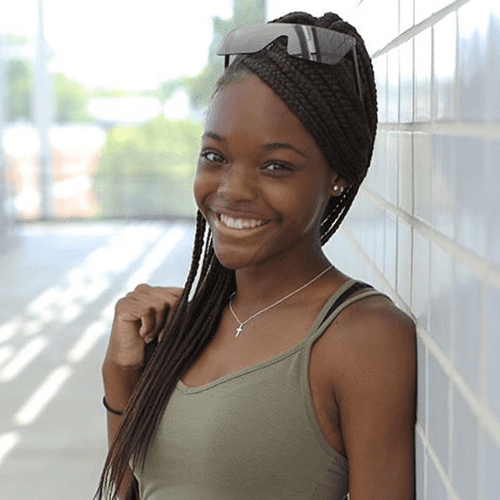 "To me, Black History month is a time where I can reflect and honor the contributions of African-Americans. It gives me so many opportunities to educate myself and others and learn more about the history of my own people."
– Kiya Ross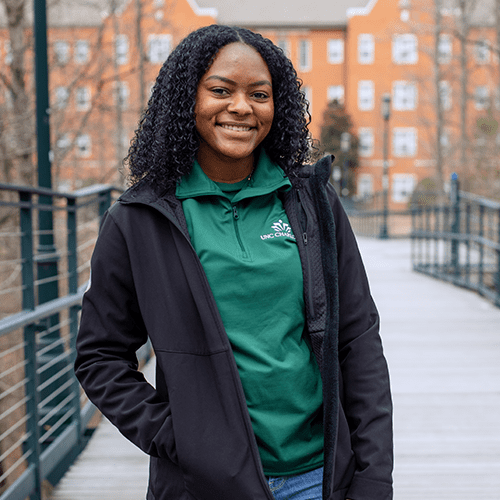 "Black History Month is not just a month for me, it's every day, it's my life. Specifically, this month is a time to celebrate everything black people have done and created. This month brings joy as I see the many black people who have paved the way for me. I love Black History Month because it gives me as an African American many opportunities to learn more about the history of my own people, to hear traditional music, and to attend enriching events. It is a time to rejoice and bask in the love of being black."
– Tahlieah Sampson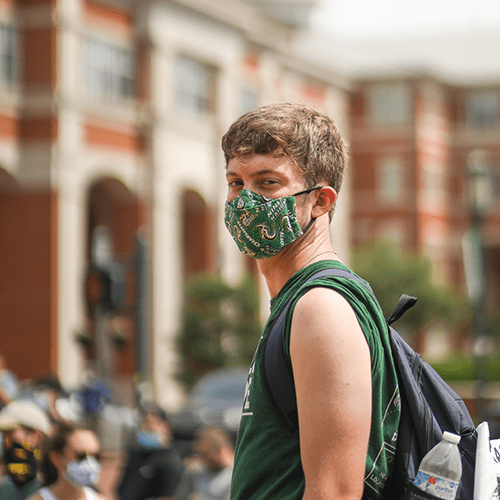 "Black History Month is all about unlearning and relearning. It's about understanding not only how present Black people were in countless stories of American successes and setbacks, but how they have also been written out of that history for centuries. This month, it's so important for non-Black people like myself to understand that Black history IS American history, and intentionally listen and ask questions in order to fight for a more equitable future for all."
– Cooper Manley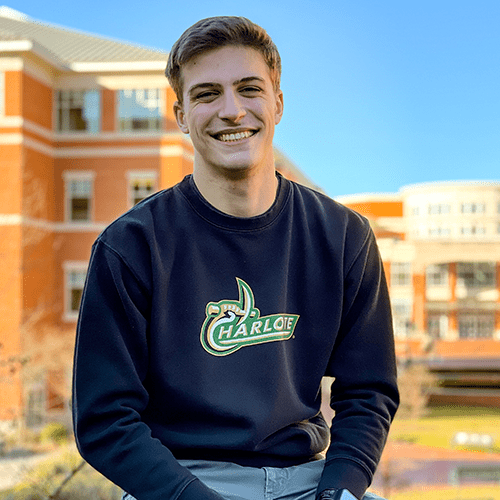 "Black history month gives me an opportunity to amplify black voices that are typically silenced. It also gives me an opportunity as a white person to learn more about how I can help support this amplification effort and be an ally."
– Julian Pereira
Additionally, we asked our Black students what advice they would give to Black prospective students, who are either interested in attending UNC Charlotte or have already decided to join Niner Nation. This is what they wanted to share with our Future 49ers.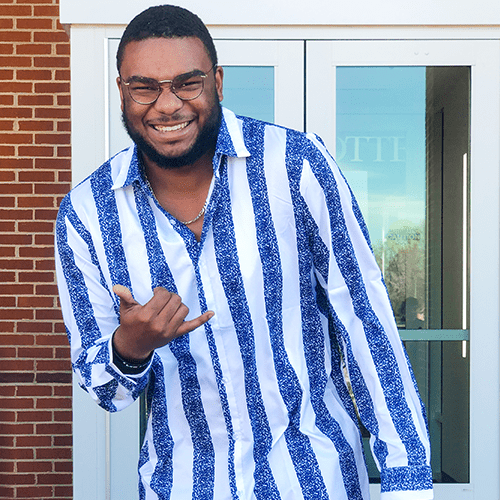 "Our Vice-Chancellor of Student Affairs, Dr. Kevin Bailey, holds a high leadership position as a Black man at a PWI (Predominantly White Institution). This is remarkable and exemplifies how diverse this campus is. Also, it shows how any black student or faculty member can have a voice and a sense of influence during their time at UNC Charlotte. I say to any black prospective student who looks to tour or attend UNC Charlotte that this is and will always be an amazing campus filled with leaders that look like you and will show you the compassion you so deserve."
– Tassan Dover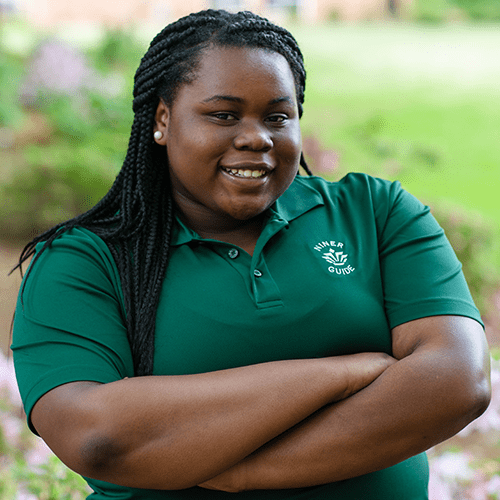 "UNC Charlotte has provided me with an extremely diverse community of peers. The world is ever-changing and ever-evolving, therefore one should not limit themself to the comfort zones of people just because they share physical similarities. UNC Charlotte will allow you to take advantage of opportunities in spaces that interest you, and in turn will aid you in flourishing in like-minded, well-rounded, diverse communities."
– Raven Parker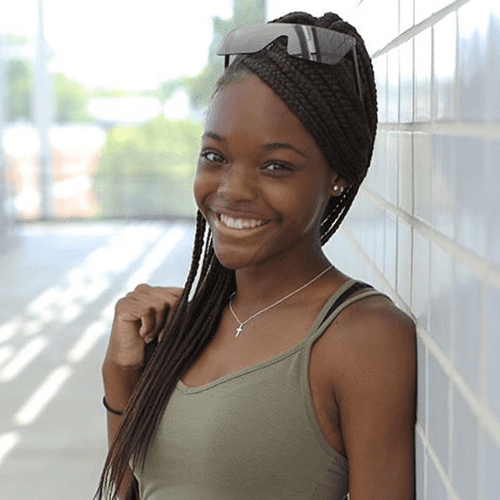 "A piece of advice I would share with Black prospective students who are either interested in attending UNC Charlotte or have already decided to join Niner Nation is to research the many opportunities our University gives us to authentically be ourselves. From the Black Student Union to the Africana Studies department, there is Black History here on our own campus. There are people that look like us that fought hard for us to be able to be in this position today, so make sure to take advantage of all of the opportunities placed on campus for us!"
– Kiya Ross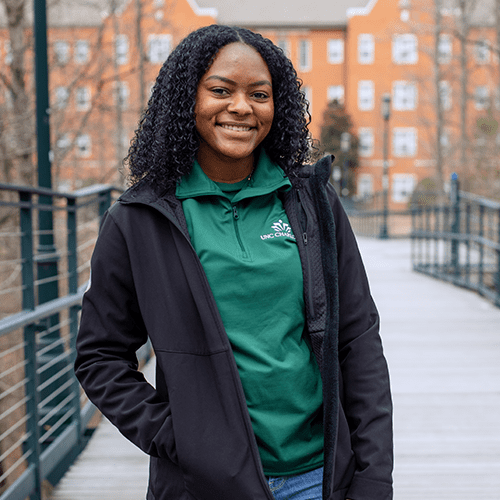 " If you are planning to attend UNC Charlotte: My advice would be to get involved and make connections. There are so many amazing black leaders on the campus of UNC Charlotte that will help push you to greater heights. If you are interested or still deciding: My advice would be to attend a school where you feel seen and valued. I feel that way every day at UNC Charlotte. You should not settle for anything less at ANY University you decide to go to."
– Tahlieah Sampson
Although Black History Month is coming to an end, the Office of Undergraduate Admissions is excited to continue honoring Black contributions to our University– past, present, and future. We look forward to continuing to provide members of Niner Nation opportunities to share their experiences and accomplishments while celebrating and honoring the diversity at UNC Charlotte.
We are committed to addressing the cultural, economic, educational, environmental, health, and social needs of the greater Charlotte region. Our campus community is comprised of people who represent the wide breadth of gender identities, races and ethnicities, faith traditions, nationalities, and other social categories and backgrounds. These varied identities and experiences enrich the University as a whole. UNC Charlotte strives to celebrate and leverage the benefits of this diversity, and to sustain an inclusive and welcoming environment for all students, faculty, and staff.
For more information on diversity at UNC Charlotte, visit uncc.edu/landing/diversity.